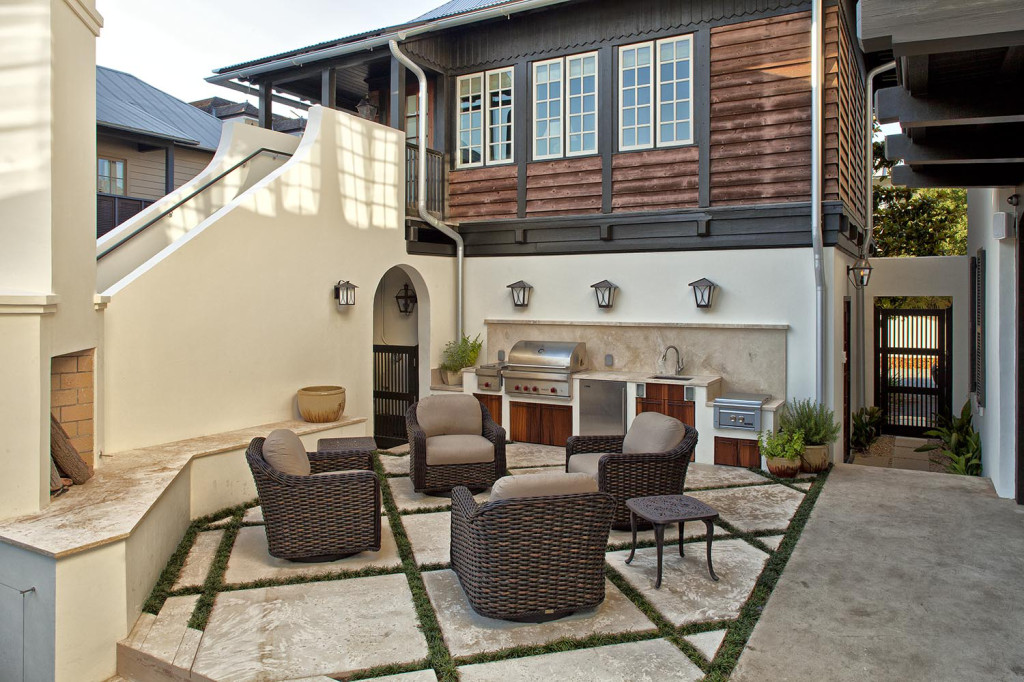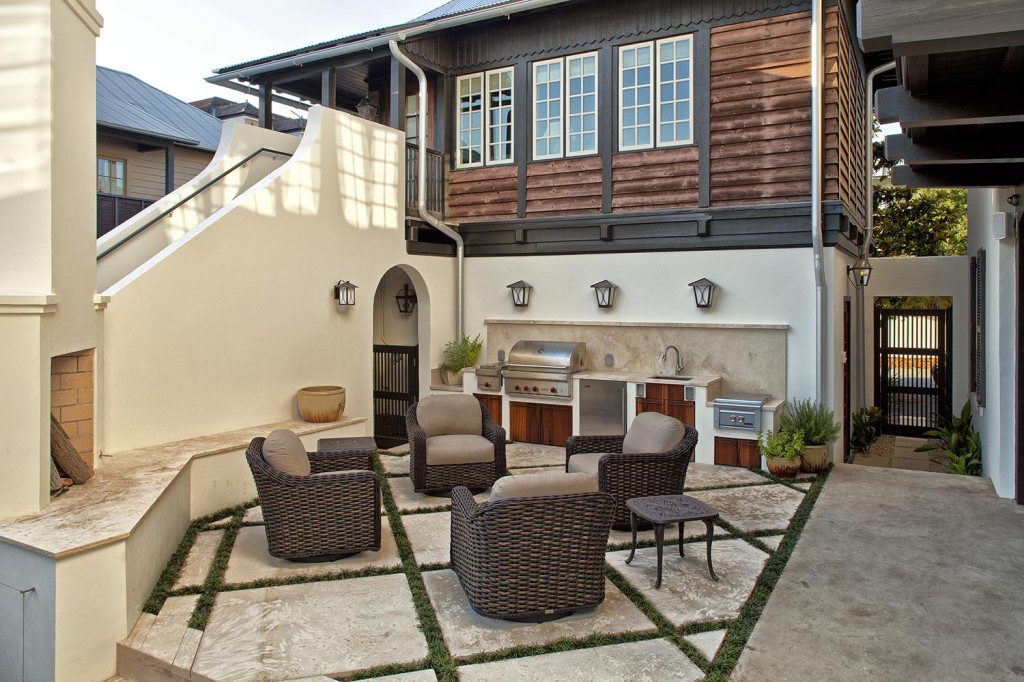 Start With the Floorplan
Not only is determining the size of the space an important first step, but also the exact location relative to the home. Perhaps placing the outdoor kitchen next to the carriage house makes the most sense for entertaining guests or perhaps the view from the main living area means the outdoor kitchen moves to the side. If hosting friends and family in the space for meals is frequent enough, it may make sense to keep the space close to the main kitchen to avoid long trips between the two when carrying food or cooking items. It's also important to consider where any grill smoke or exhaust will go when in use, so that wafting toward the main home can be avoided. Be conscious of how certain building materials will be affected by weather when deciding what to incorporate. Some stone (like marble) becomes slippery when wet while others might not stand up to grease splatters or food stains.
Choose Appliances Carefully
Not only do the size of selected appliances dictate how the space will be designed and laid out, but so does the quality. Aim for the best possible model your budget can accommodate that will stand up to the indoor/outdoor weather and elements. Materials like stainless steel and ceramic are fairly low-maintenance and are tough enough to endure wind, rain and sun. Standard outdoor kitchen items include a stove/grill (either gas, charcoal or both), a sink and a refrigerator, with sizes varying depending on the homeowner's intended use for each. For example, a small wet-bar-sized sink may be plenty for someone who only needs to rinse items, but a full-size sink may be best for larger cooking projects and cleanup.
Storage & Prep
Just as you would consider cooking habits and need when planning an indoor kitchen, the same rules apply when designing an outdoor kitchen. Each cook has varying preferences for preparing a meal and these must be taken into account here as well.  Does a large prep space requirement mean more outdoor counter space is needed? Yes. Does one need extra storage space to hide clutter like dishes, utensils and grilling materials? Yes. Will guests need counter space to eat and drink or will a separate table be available? Imagine how the space will be used, how many will be entertained at once and what surfaces will be needed.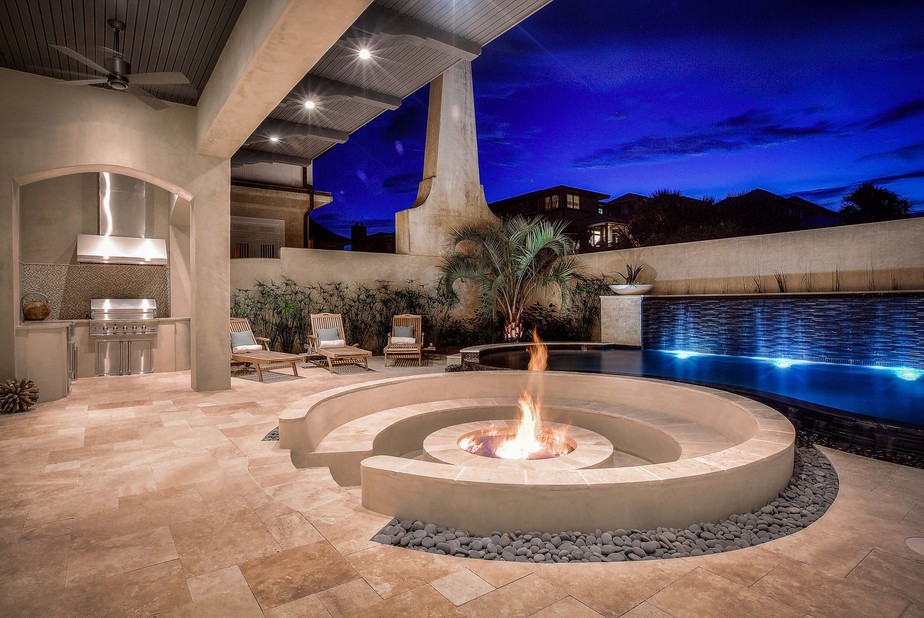 Take Note From Indoor Comfort
Since weather plays such a large role in outdoor living, be sure to account for Mother Nature. Plan to include shelter from the sun or rain in the form of a roof overhang, pergola or simply by incorporating spacious patio umbrellas. The summer heat may call for breezy overhead fans to keep the space cool and comfortable, while winter months might require the addition of a firepit, fireplace or a chic outdoor heater.
Set the Mood
Lighting and ambiance play a huge role in defining how the outdoor space looks and feels. Determine electrical needs for fans, lanterns, café lights, perhaps a soft glow along a footpath or even an television. Not only do the right lighting selections set the mood but also allow homeowners to cook and enjoy the space after the sun goes down. In addition, our clients often opt for built-in elements for a more custom look including stone benches, fireplaces or firepits and custom outdoor flooring. Add furniture, side tables and plenty of cozy cushions to fine-tune the desired look.
For more information about Galvas Construction, contact us here.